CONGRATULATIONS TO MARY ANN & JIM MARTIN
On May 20th, 2006 Mary Ann and Jim Martin were inducted into the New Mexico Square Dance Hall of Fame.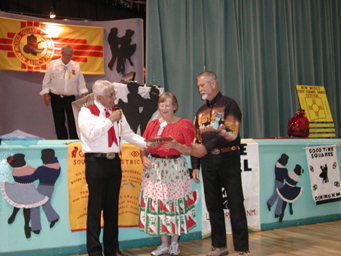 Photo Courtesy of Pat Pendergrass
Mary Ann and Jim started taking Square Dance lessons in the Fall of 1973 and joined Blue Bell Square Dance Club in the spring of 1974.
Mary Ann had always been in the Church Choir and was in the Choir in High School, so it was a natural love of music and square dancing that lead her to try Calling. She began calling for Blue Bell Square Dance Club soon after they completed lessons. She was an active member of Caller Lab for over 15 Years.
She and Dona Sewell started a Square Dance apparel shop in about 1974.
Over the years both she and Jim held almost every office for Blue Bell Square Dance Club. They taught lesson, did demo's, anything and everything to help promote Square Dancing. She called and taught lessons for the Whirl Away's Square Dance Club in El Paso, Texas. She called for State Festivals and also at the National Festival.
They were Blue Bell South West District representatives for many years. They served as NMSRDA Southwest District officers a number of times, as well as President of the NM Square Dance Caller's Association.
And now after calling for 30+ years she has become an overnight success.
All kidding aside, Mary Ann & Jim have done a great deal for Square Dancing in Las Cruces / El Paso area. She went against the flow to become a caller. We all know that most callers are men, and some of them donít take it to kindly when a woman tries to invade their territory. They promoted Square Dancing by giving lessons, putting on demonstrations, and calling for several of the clubs in El Paso. Mary Ann called for several National Square Dance Festivals and the SWASDA festivals. She gave lots of lessons for Blue Bell and the Whirl Away's; Basic, Mainstream, and Plus.
We at Blue Bell Square Dance Club take our callers for granted. This club may be the only club left in the United States that has only member callers. Because we have been so fortunate over the years to have a lot of great callers, we forget what sacrifices these individuals make just to be calling members. This does not happen overnight. They put a lot of time, effort, and money into learning and perfecting their craft. We invest only a small amount of time in learning to dance, but they put thousands of times more effort into becoming Callers. They have to practice, buy their own records, their own equipment, and some of them even make refreshments for the dance.
I personally would like to express my gratitude to Mary Ann & Jim. They extended the hand of friendship to Jeanie and I and made us feel welcome to Square Dancing. She encouraged Jeanie to try her hand at calling. She personally asked the Callers Association to help send her to Callers College. We really enjoy Square Dancing and all of the friends and acquaintances that we have made at Blue Bell and all of the other clubs in the district.
THANK YOU MARY ANN & JIM for all you have done for Square Dancing and for BLUE BELL SQUARE DANCE CLUB.
Jim Groves and
All the members of Blue Bell Square Dance Club